https://www.spreaker.com/embed/player/standard?episode_id=6646956&autoplay=true
As the pope stalkers of the world watched his flight path on the Alitalia website, suddenly… the plane started making donuts. Several loops over North Carolina later, the pope is back on his way to D.C.: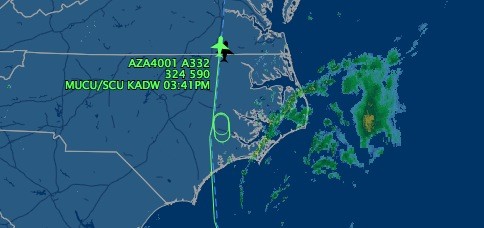 FlightAware
A source on the ground at Joint Base Andrews said several government officials told him the reason the plane started circling was that Obama and Biden are running late to the greeting ceremony. Ooops. Seems like even the bishop of Rome has to adjust his schedule around Beltway traffic.
Update: The pope has landed. Francis is still smiling, still battling the wind, and still riding around in tiny cars.
http://www.theatlantic.com/notes/all/2015/09/pope-francis-visit-to-the-us/404983/#note-406780-obama-and-biden-were-running-late-for-the-pope-so-they-made-his-plane-turn-around